It has come to our notice that some set of people had decided to jeopardize the lives and future of LASPOTIANS through the dissemination of fake news as regard the forthcoming examinations schedule to commence from Tuesday, 12th January 2021.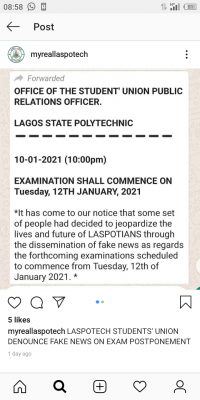 We totally condemn such actions and will not hesitate to penalize the perpetrators when caught for their irresponsible actions as investigations are ongoing already.
Please disregard any form of information being aired online recently towards the postponement of the examination to "18th of January" as it is not from the SUG.
Please confirm the new exams time tables from your various departments, we wish you all the best of luck and success.
Thank you.