The Rector has approved February 8th, 2021 as the resumption date for the 2020/2021 Academic session. Deans of School are to inform their Head of Department in order to ensure that departmental registration officers are in school to clear new students (ND1 and HND1).
The meeting point shall be the School of Agriculture Auditorium by 10am on Monday, February 8th 2021 for briefing.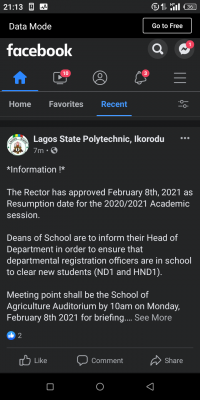 Thereafter registration shall hold in three locations as follows:
School of Agriculture Auditorium – SMBS, Sch of Agric and Sch Communication. & Library Studies.
School of Environmental Science Theater – Sch of Environmental Science and School of Technology
School of Engineering Theater – School of Engineering and School of Pure & Applied Science
Regards.